Motivate & Inspire
Book Hintsa's experts to host a keynote speech or facilitate a workshop

Companies choose Hintsa's experts for their inspirational perspectives on human performance, vast experience from Formula 1 to Fortune 500, and capacity to translate science into action. All our keynotes and workshops can be delivered either in person or remotely.
Ask for an offer
engage, inspire & entertain
Inspirational keynote speeches by Hintsa's top-rated speakers
Our experts are available to speak on a wide range of topics, from thriving in the future of work to beating burnout and optimising remote work. We host keynote speeches at management team meetings, board retreats and company-wide gatherings. We are also regular speakers at conferences and seminars. Our keynotes typically last from 20 to 60 minutes and have less interactivity than our workshops. All keynote speeches can be held either in person or remotely.
concrete tools for change
Interactive workshops with a deep-dive into specifics topics
We facilitate workshops to provide a deeper-dive into topics related to health, wellbeing and sustainable high performance. The sessions often include the use of our surveys to provide personal and organisational insights and input on topics of high-importance. We organise workshop typically for groups of 2-25 people. Our workshops are highly interactive and vary from 1,5 hours to all-day sessions. All workshops can be held either in person or remotely.
Example topics
See the full list of our different keynote and workshop topics here. If you can't find what you're looking for, please get in touch by filling in the form at the end of this page.
Optimising remote work
How individuals and teams can design and lead remote work.
Leading remote work
How team leaders can create the right environment for remote collaboration.
Stress & burnout
Practical tips how to beat burnout and thrive under pressure.
Cognitive performance
How to improve cognitive performance and work smarter, not harder.
Sleep, rest & recovery
What science says about why we sleep, and how to rest your way to success.
Leading wellbeing
What leaders need to know about building a wellbeing, high performing organisation.
Change that sticks
The science of change, habits and how to create it yourself.
Daily rhythms
How to design your workday to do your best work.
Knowledge work & mental health
How office workers can reduce stress and improve mental strength.
Sustainable career
Combining a meaningful career with meaningful home life.
Workout at home
Tips for adding movement to a home office day, including a short guided training session.
Routines of elite athletes
What can executives learn from athletes about routines for sustainable high performance?
"One of the most hotly discussed events at the World Economic Forum was a session on sleep and peak performance. Hintsa's session was so oversubscribed that the WEF had scheduled a second one for the next day."
Ask for an offer. We'll respond as soon as possible.

Central Europe
Claudia Oeken
claudia.oeken@hintsa.com
+41 79 458 10 05

United Kingdom
Thomas Hayman
thomas.hayman@hintsa.com
+44 7376 428 380

Middle East
Mikael Vainio
mikael.vainio@hintsa.com
+971 50 6670349

Nordics
Kalevi Kostiainen
kalevi.kostiainen@hintsa.com
+358 40 5063056

Global
Pekka Pohjakallio
pekka.pohjakallio@hintsa.com
+358 50 557 1156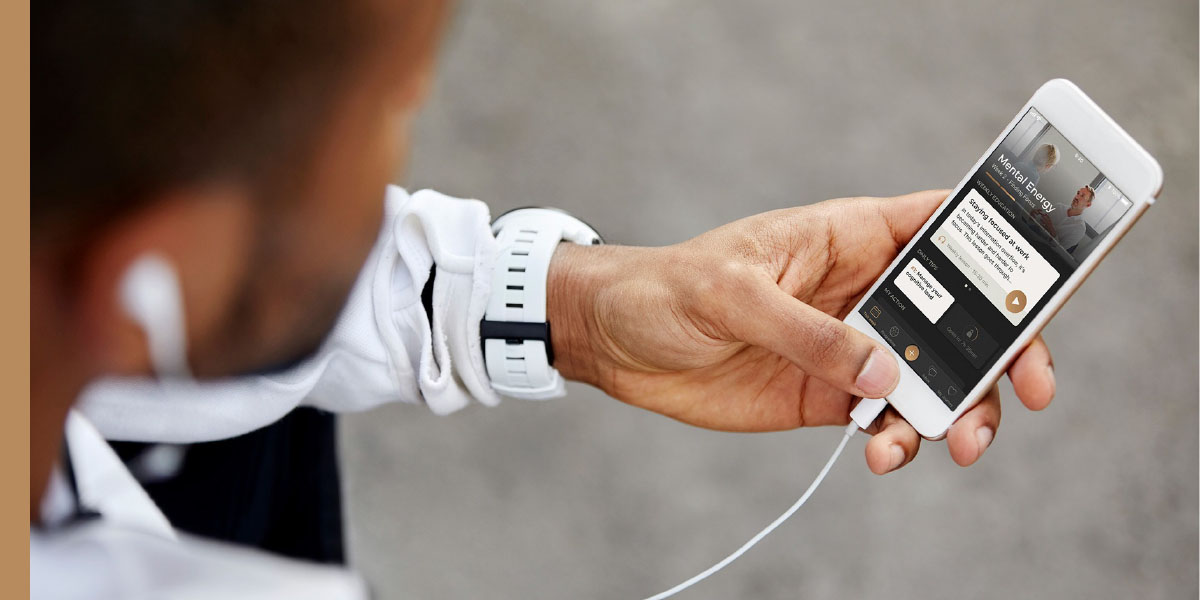 Coach & support
Get results with performance coaching services for leaders and motivated individuals. Involve larger audiences using our bespoke digital tools to support your people – when they need it.
Read more

Diagnose & Plan
To reach your goals, you need to know what to improve. Assess your organisation's current state, plan interventions, and measure results with our analytics and advisory services.
Read more