Creating a better tomorrow with technology – The story of Diego Beltrami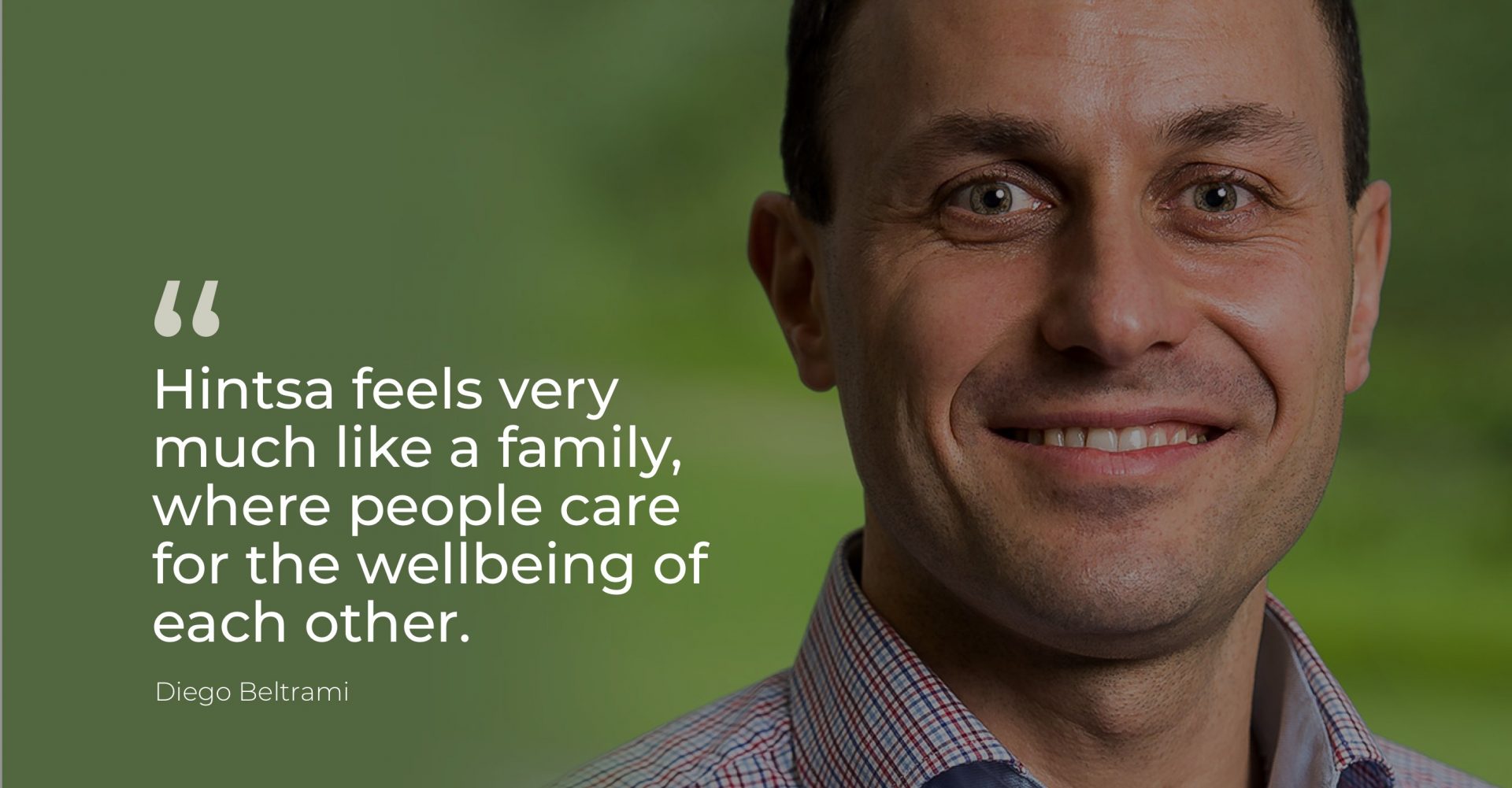 Hintsa Performance is full of fascinating professionals. This time our Lead Software Engineer Diego Beltrami shares his story.
Diego is a software development expert who has been working on different mobile solutions for the past 10 years. Since the spring of 2016 Diego has been a valuable member of the Hintsa team who brings with him not only his technical expertise but lots of laughter, impromptu guitar sessions, and the latest news from the Italian football league.
When did you first get interested in coding and why?
Compared to the kids these days, who may start coding at a very early age, I started rather late. During high school, I took some basic courses and found it fascinating to learn how to apply some theories of mathematics with a few lines of code. However, when it came time to choose what to study in university, for some reason I did not choose information technology and went for telecommunications with a bit of space technology instead.
Later though, when I took a few software development courses and got to work on projects larger than simple homework, my interest in the field grew back. It was then when I realised I could use technology to help people in their everyday life.
Coming from Italy, how did you end up working in Helsinki?
I first came to Finland in 2000 to study at a local university for a year. I then moved back to Italy and never thought Finland would become my second home. But in 2005 I saw a great job opportunity, quit my job in Italy, packed my bags and moved to Finland with the intention of gaining just a few years of great experience. Then I met my wife and quickly those few years turned into ten, and now I've been here even longer.
What do you like best about Hintsa's company culture?
What first interested me in Hintsa, was the opportunity to use my skills in software development for something good. I like how the company is a combination of highly skilled people with very different backgrounds, from athletes and software enthusiasts to bankers and TV-producers. Still, it all feels very much like a family. People are always willing to help each other out and genuinely care for the wellbeing of each other.
One example of the human approach to life and work at Hintsa, is the three-month-long parental leave that I was able to take last year to spend some quality time with my two little kids. It was a priceless opportunity for me strengthen my relationship with the little ones, and to reflect my life as well as my work. I came back with great energy and a bunch of new ideas. I strongly recommend it to every parent!
What is your typical workday like?
I work mainly on developing the iOS versions of our digital coaching tool Better Life. My workdays tend to vary a bit since my tasks are not merely writing lines of code on my computer. A lot of my work requires interacting with my colleagues who may not know so much about software development, so effective communication is crucial. We bounce ideas together and try to find suitable solutions to technical issues or gather data and needs from our end-users and clients to further develop our products.
However, there is one consistent pattern in my work days, and that is commuting by bicycle. Besides being a great way to keep fit, I find it to be a very refreshing way to start my day in the morning and leave my work worries behind after I leave the office. Also, since I have two small kids at home, it can sometimes be the only time I have the chance to exercise.
Another great way to stay active during the workday is something we at Hintsa's Helsinki team call "office ball". Over the last few years, there has been several variations, from indoor football to handball with trash bin goals and the traditional Finnish Mölkky. It's something that just started naturally when we had a bit of extra office space, and it's a great way to get a small break from work and boost the atmosphere. And even though some of our team members can get a bit too competitive at times, we have managed to avoid any serious injuries so far. Only a few scratches and broken toes. 🙂
What gives you a sense of accomplishment in your daily work?
The technical challenges and the problem-solving nature of software development gives me a sense of accomplishment on a daily basis. I love how piece by piece, line by line, together with talented and top experts, I'm constructing something magnificent. Something that hundreds and thousands of people are going to use to improve their personal wellbeing. Seeing the goal of Hintsa, improving people's daily life and as a consequence improve their performance, come to life is really rewarding. And knowing how I'm playing my part in making all our scientific and practical knowledge easily accessible to people.
What are you most looking forward to in the future?
Work-wise I'm looking forward to seeing our latest digital coaching service Better Life hit the market and seeing how our creation can help users improve their wellbeing and their performances. There seems to be a lot of interest in the service already, so we're living very exciting times. Other than that, I'm very much looking forward to spending some time in my home country of Italy with my family over the summer. Lot's of cooking, biking trips, family football matches, playing the guitar and singing together to look forward to.
Would you like to be part of our growing team of professionals? Visit our Career pages for job openings.