From Island Life to Medicine in the Mountains – The Story of Charlotta Langenskiöld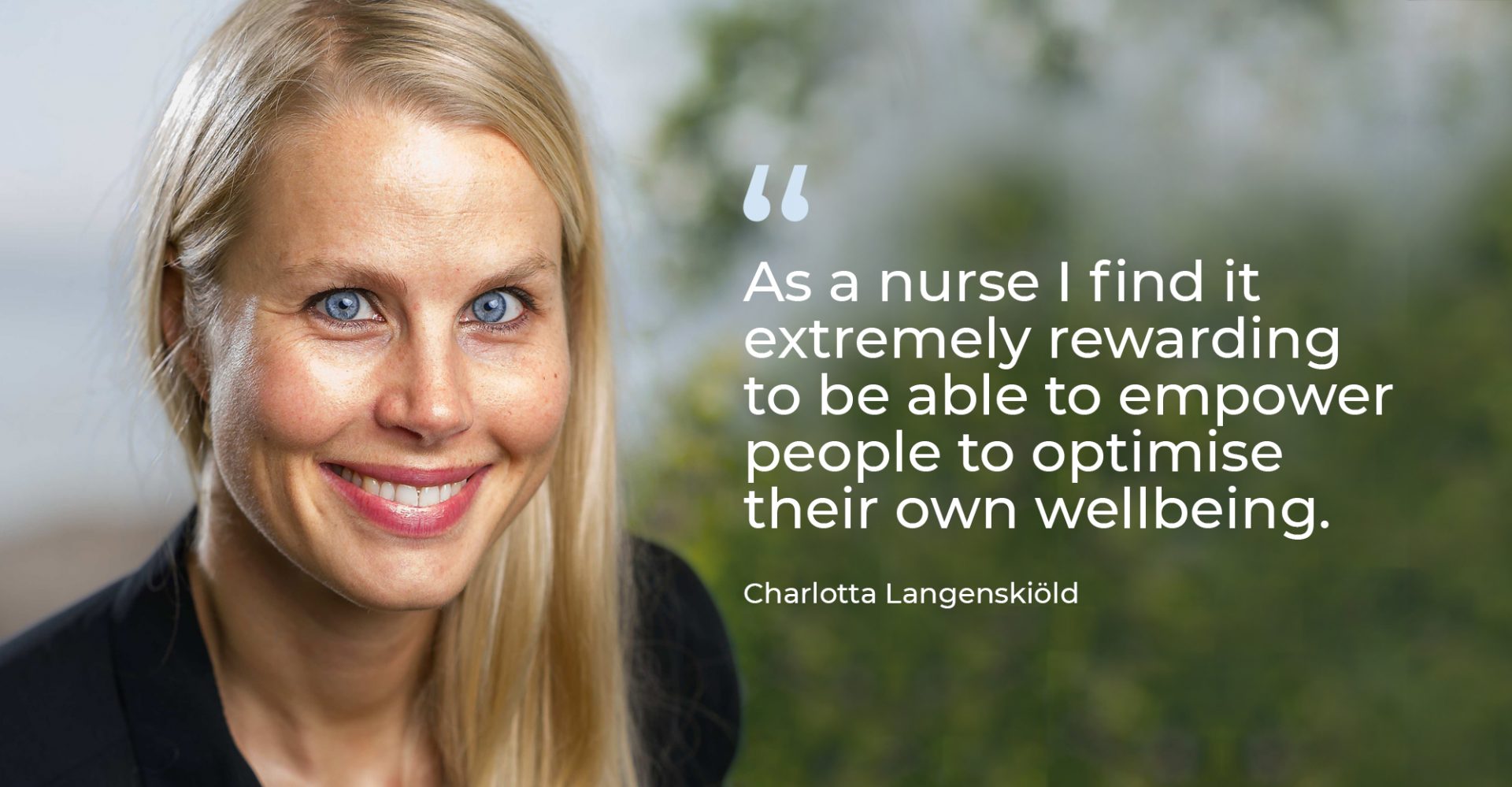 Hintsa Performance is full of amazing professionals from various different backgrounds. Our Hintsa Stories blog series is dedicated to them. This time let us introduce you to Charlotta Langenskiöld, a registered nurse with extensive experience in orthopaedic nursing and preventive health care. As one of our Programme Managers, she coordinates all aspects of the Hintsa programme and supports the diverse team of professionals in delivering Hintsa Performance's customised services.
You have quite a back story, ranging from wilderness guide training to working as a nurse in an operating room. How did you first get interested in the world of holistic wellbeing?
I have a great passion for the outdoors. Being outside in nature is extremely important to my own wellbeing. I'm particularly fascinated by the North. The vastness and quietness give me a sense of perspective and calm. Skiing has also been a very big part of my life and I have chosen to spend a part of my life in the mountains. This is why I travelled to Lofoten where I did a wilderness guiding course. We almost spent a full year outdoors living in a tent – it was fabulous.
I had always wanted to pursue a career within healthcare and it was on the Lofoten islands I met several nurses. I thought their profession sounded so interesting and it was a great career to pursue to be able to travel, to live in the mountains and to work with people and healthcare.
After my year on the Lofoten Islands, I left for nursing school. I studied nursing in Stockholm, Sweden at the Karolinska Institute. I wanted to be in a diverse medical environment. The Karolinska Institute, being a medical university that educates most professions within the medical and health care sector as well as being a big research centre within the field, was a natural choice.
During my education I received a scholarship to write my thesis in Santiago de Chile, studying how nurses worked with and implemented preventive health care measures to protect vulnerable populations from the harmful effects of air pollution. I was extremely impressed by the knowledge the nurses we worked with possessed and the amazing work they had done for their communities.
It was such an important learning experience for me and it really awakened my curiosity about nursing in foreign countries and cultures. I wanted to learn more about different health care systems as well as how culture and societies affect the individuals view on health and wellbeing. Nursing has taken me to several countries such as Sweden, Australia, Finland, France and Switzerland. Through my travels, I've been very fortunate to broaden my knowledge and perspective on nursing, health and wellbeing.
My interest in holistic wellbeing started to grow during my nursing career. Seeing a person as a whole and understanding their goals and values facilitates maximum healing, curing and lifestyle change. When the patient or person is in the centre and get to evaluate what health care interventions and outcomes are the most important, we make them active participants or key players in managing their own health. To be able to empower people to optimise their own wellbeing is what I find extremely rewarding as a nurse.
At Hintsa you work as Programme Manager. What is your typical workday or workweek like?
I would say that I don't have a typical workweek. My work activities are very varied, they include organizing health check-ups, responding to any medical issues that need to be solved, discussing with our doctors and medical providers as well as supporting our coaches in delivering our coaching programmes. My work is structured around the needs of our clients which can vary a lot from week to week. I also work in all of our different locations being Geneva, Zurich, London and Helsinki, adding to the diversity in my work.
You work with both our motorsports clients and well as our corporate clients. How does your work with two sides differ and are there similarities?
A big part of my work is to organise health check-ups and screenings. They are always based on the individual client's needs hence a health check-up for a motorsport client can vary a lot from that of a business professional's health check-up, as their needs are usually very different.
However there are similarities in the sense that both client groups have extremely busy schedules and they both travel extensively. And both groups continuously have to perform at a very high level. This means it's extremely important for us to deliver very well managed health interventions and services that are delivered in an efficient manner. For both of these groups, it is crucial for us to support them in maintaining good health and supporting them to lead a busy and demanding lifestyle.
You currently work in Switzerland. Have you noticed any special differences in the wellbeing culture in Switzerland compared to the other countries you have lived in?
I have been very struck by Switzerland's high quality and well-managed health care system. The Swiss are quite active and spend a lot of time outside in the beautiful nature they are surrounded by. The standard of living is high and the Swiss are quite a healthy population.
One thing that that seems to be an issue, like in many other countries, is stress and particularly work-related stress. Luckily we see more and more companies taking initiatives to enhance the wellbeing of their employees. It will be extremely interesting to see how occupational health care and wellbeing develops further in Switzerland.
Your work as a nurse requires continuous learning. How do you keep up with the latest advances in health care?
First and foremost I learn from my colleagues. I work within a multi-disciplinary team with specialists such as doctors, nutritionists, physiotherapists and our coaches of course. It's a great learning environment. I'm also currently doing a Master's Degree in occupational health care nursing, which I'm extremely excited about.
You are also a mother of a small child. How do you take care of your own wellbeing and get energy in the midst of a busy career and parenthood?
It is a challenging situation to take care of a one-year-old and work at the same time, and on top of that try to find time for myself every now and then. I have been trying to set my own expectations in a way that I don't get frustrated when there is no or little time for myself. I've become quite good at exercising at home when my daughter sleeps. Usually, I'll do a shorter yoga or stretching session. And when the weekend comes, I tend to leave for the mountains and take my daughter hiking or skiing. I will carry her on my back which makes for great exercise. For me, being out in nature is the best way to take care of myself and recharge my batteries. Thankfully Switzerland has plenty of opportunities for that.
What are you most looking forward to in the near future, in your work or outside work?
There are many interesting projects going on in developing our General Health Offering and working with different specialists. At the moment we are for example working a lot with the nutrition team which is a great learning experience. The rewarding aspect with General Health is that we get to work closely with all the elements in the Circle of Better Life.
I'm also very much looking forward to spending time with my daughter and watching her grow, it goes so extremely fast right now.
---
Would you like to be part of our growing team of professionals? Visit our Career pages for job openings.