Cognitive Performance of Global Leaders – Learnings from Davos 2019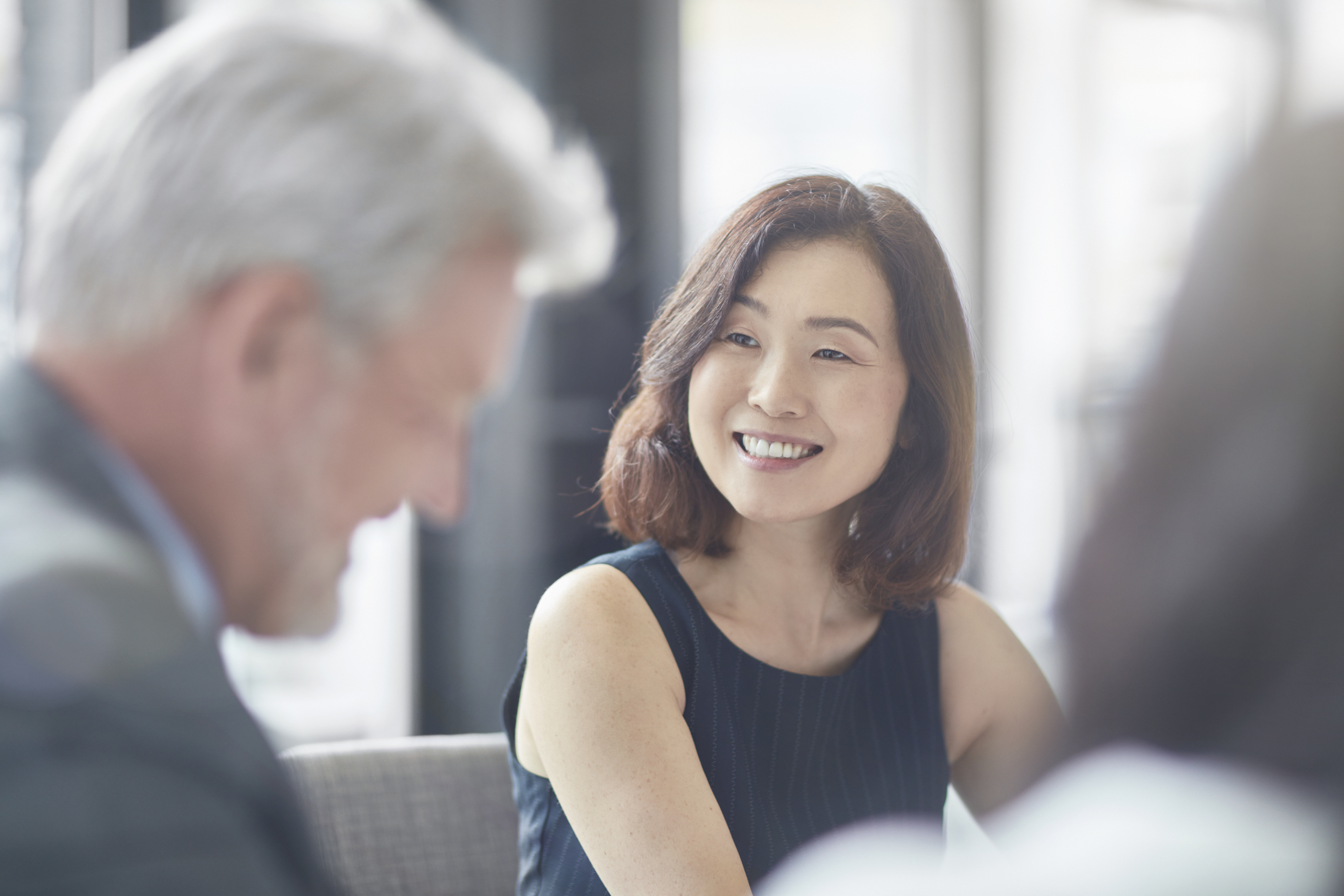 The topic of brain health and performance is moving ever higher on the agenda of businesses and governments. The events and conversations in Davos 2019 were no exception, but this year we wanted to provide the opportunity for participants to experience what this could mean for them, personally.
For most of the year Davos is a popular destination for sports enthusiasts and holidaymakers, but each January the town is flooded with global leaders and thinkers aiming to network and discuss the state of the world. The days are packed with meetings, presentations, panels and (don't let anyone tell you otherwise) parties. However, the one thing missing from most people's schedules is sleep.
During Davos 2019, we conducted an experiment – in partnership with EMOTIV, the global leader in personalized neuroinformatics, and the International Federation of Automobile (FIA), the governing body for world motor sport and the federation of the world's leading motoring organisations – to illustrate the impact of inadequate sleep on cognitive performance and driving.
Differences in cognitive performance
Over the previous 12 months, we've been gathering cognitive performance data from high-performers, in both sport and business. We've assembled a database with thousands of observations, including a subset from some of the world's top racing drivers, featuring both reaction time and average sleep duration.
Reaction times are an important source of information in experimental psychology. We can use data from simple reaction time tests as a quick and easy way to measure the influence of different variables on our cognitive performance. We also used EMOTIV's neurotechnology to monitor brain activity and compute cognitive functions in real-time thanks to machine learning, including focus, stress and cognitive load. During the week in Davos, we gathered data and analysed it, as follows:
 Drivers: featuring data from some of the fastest drivers in the world.
'Top-Sleepers': a group of high-performance knowledge workers who regularly sleep at least 7 hours per night, partitioned from a dataset gathered during 2018.
 Davos: world leaders attending Davos Brains 2019 who participated in our experiment.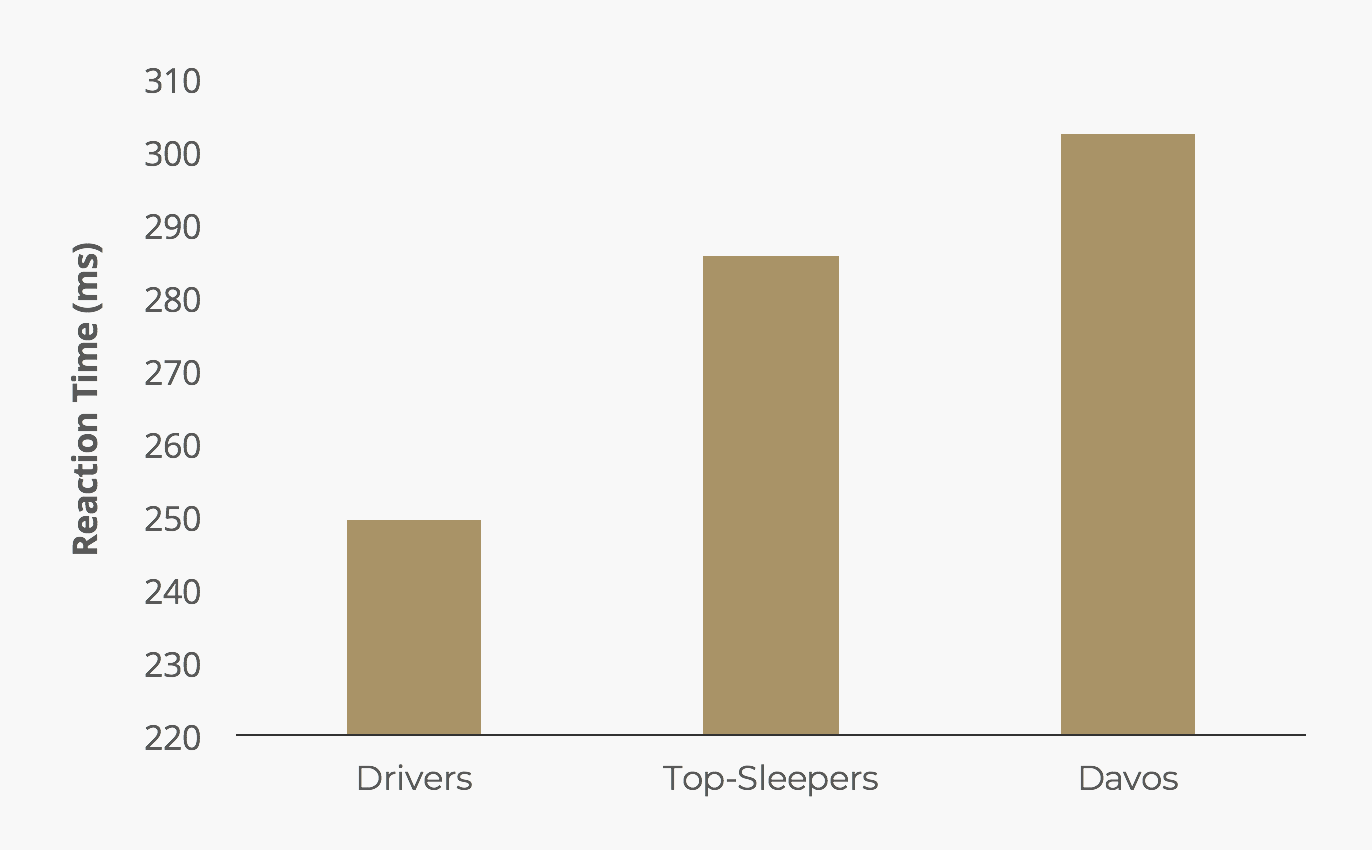 As you may expect, the drivers in our sample (all who compete in the sports highest single seat series), recorded the fastest average reaction time. The 'Top Sleeper' business-people from our database were 15% slower than a top driver. However, our Davos participants were 21% slower than the professional racers, and 6% slower than the 'Top Sleepers'.
Improving focus through better sleep
Alongside the neurocognitive assessments, we also recorded brain data for the Davos participants using an EMOTIV Insight brainwear, to measure the participants' level of focus. We divided the Davos brain data into a low-sleep group (participants who had slept for less than 7 hours on the preceding night), and an adequate sleep group (those who had slept for at least 7 hours on the preceding night).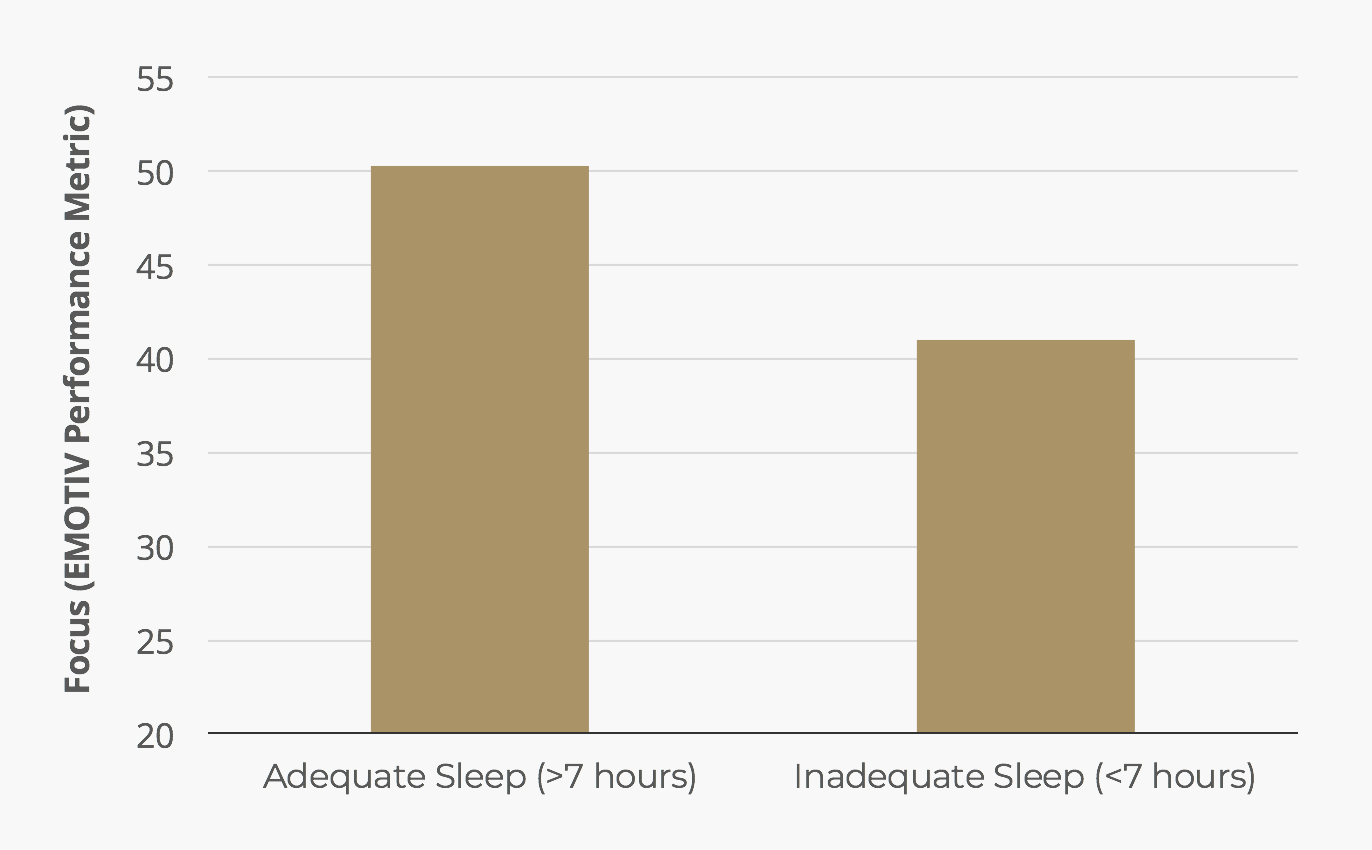 The Davos participants who reported good sleep (at least 7 hours), recorded 22.4% better focus during the neuro-cognitive assessments.
Performance in the real world
The data we gathered in Davos is broadly consistent with the literature, and most of us are already convinced that we need to sleep adequately, but it's still important to highlight the real-world significance of these findings.
After 18 hours of wakefulness; equivalent to working from 8am to 2am, reaction time slows by around 8%–15%. That's equivalent to having a blood alcohol concentration of 0.05%: legally drunk in most European countries . Sleeping 6 hours per night is associated with a 33% increased risk of being involved in a road-traffic accident relative to sleeping 7 or 8 hours per night. Research using EEG to investigate 'drowsy driving' has demonstrated the risk of 'micro-sleeps'; brief periods of sleep or drowsiness where an individual fails to respond to their environment. A 3-second micro-sleep, while travelling on a highway at 130km.hr, would result in the car moving 108 metres without the driver being in control: the length of a football (soccer) pitch.
Inadequate sleep and fatigue impact the capabilities of all humans, from the world's top drivers to keyboard warriors. This has significance for wellbeing, performance, and for safety in the workplace, behind the wheel and beyond. We will be sharing more insights from our ongoing research into wellbeing and performance during 2019.
In the meantime, you can find out more about the Davos Brains experiment and its broader significance in this interview by Hub Culture recorded in Davos 2019.