Hintsa Performance Acquires 22-Year-Old Serial Entrepreneur Ed Beccle's Tech Startup

"Corporate wellbeing needs a next-generation, digital-first approach to reach millions"
London, 11 October 2021 – Hintsa Performance, a global leader in human high-performance coaching, has acquired Grasp, a mentoring platform co-founded by 22-year-old serial entrepreneur Ed Beccle alongside Henry Costa. By combining Hintsa's highly personalised coaching services with Grasp's digital-first approach, the company aims to bring next-generation technology to corporate wellbeing.
In the past year and a half, wellbeing has risen to the CEO agenda. This shift is driven by an acute global need: 53% of workers feel that mental health benefits are now essential and nearly 60% of leaders feel used up at the end of the workday, a strong indicator of burnout. Healthcare experts worry the pandemic may have created an even greater and longer-lasting challenge for millions of individuals with preventable chronic health conditions. By joining forces at this critical moment, Hintsa Performance will combine its world-class coaching with Grasp's digital-first approach to provide the most holistic, preventative, and impactful services for corporate wellbeing.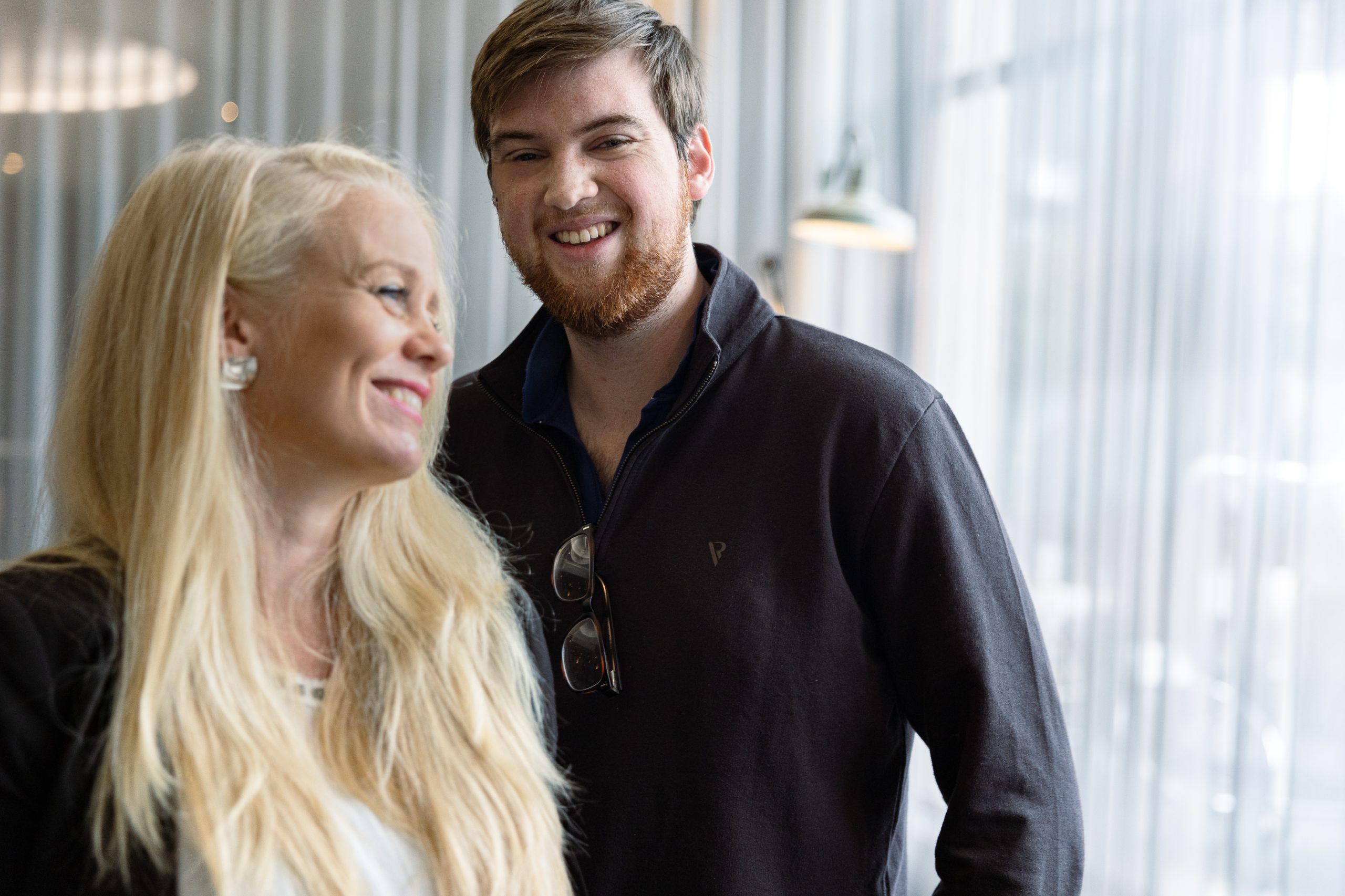 Serial entrepreneur Ed Beccle knows next-generation consumer experiences
Ed Beccle's approach to business is to identify a problem, build a solution, and scale it to as many people as possible. After being diagnosed with Type 1 Diabetes while at school, Ed tried to find a tutor who could help him catch up for the time lost after his diagnosis. The problem, Ed says, was a small and expensive marketplace of available tutors. "I didn't need a 50-year-old professor to come and tutor me. I wanted to create a solution that connects you to a university student who can tutor you online for an affordable price," Ed says. The concept would become the first iteration of Grasp, a scalable mentoring platform.
Founded in 2018 with Co-Founder Henry Costa, Grasp enables employees from all organisational levels to connect with each other, building engaged communities and a culture of inclusion. Similar to Hintsa, Grasp believes in the unique connection and learning that can happen between two people, and the need for organisations to harness that power at scale.
Now 22 years old, Ed has founded multiple businesses, among them a tutoring platform, a sales enablement software, and a Christian meditation app. He's also on the board of trustees of Reboot the Future and an advisor to Dakia Global. Today, his apps are used by millions of people around the world and he's raised over 50 million dollars from well-known CEOs and investors. Ed Beccle joins Hintsa Performance as a Co-Founder together with Annastiina Hintsa and is appointed to the board of directors.
"Grasp's skills and technology will help turn Hintsa into a high-tech coaching company the world has never seen before," Ed Beccle, the Co-Founder of Grasp says. "Hintsa has already proven its services on the highest level of business and sports. Bringing these learnings to millions of people around the world is incredibly exciting."
Proven coaching methods – From Formula 1 to Fortune 500 and beyond
Hintsa Performance, founded in the late 1990s by Dr Aki Hintsa, is a global leader in human high-performance coaching. For over two decades, the company's truly holistic methods – from medical services to physical and mental wellbeing – have been proven in the world's most demanding sports and business environments. Hintsa-supported Formula 1 drivers have won 15 World Driver Championships and 98% of all races in the past seven seasons.
Mika Häkkinen, two-time Formula 1 World Champion, remarks, "I was Dr Hintsa's first client in Formula 1 before winning the World Championship in 1998 and 1999, and I've watched the team's impressive work ever since. The amazing thing about Dr Hintsa was how he promised drivers he would help them win on the track – and off the track, too. That, ultimately, would make us more successful, beyond a career in sports. The world needs that type of rethinking, which is why it's really exciting to see the Hintsa method and company continue to grow."
Additionally, Hintsa is trusted by leadership teams in over 500 organisations globally, including leading management consultancies and financial institutions, and covers more than 40,000 employees in its largest client organisations. Hintsa's rapid growth in the corporate sector and the increasing global demand has accelerated Hintsa's transformation into a technology-powered coaching company.
"Employee wellbeing is no longer a 'nice-to-have'. It is a 'must-have'. This shows in the depth of strategic discussions we're now having with leaders globally. To truly impact millions of people, corporate wellbeing needs next-generation technology, and a user experience similar to leading consumer products. Acquiring Grasp means a significant step for us. Together, we can make Hintsa's mission – 'Better life. Better performance. For everyone.' –  a reality", says Hintsa Performance CEO Annastiina Hintsa.
Backed by some of the world's leading future-focused CEOs
Dr Aki Hintsa realised early on that the demands on top executives are similar to the ones on elite athletes – performing under pressure, managing complexity, optimising physical strength and cognitive capacity for career-long performance. Hintsa Performance has coached top executives for decades, but it is no longer primarily leaders facing the pressure. Following the pandemic, wellbeing in the workplace is not only seen as a must to attract talent, especially among the younger generation, but also a foundation for continued high performance.
"Companies need to operate as positive forces and promoting a culture of wellness is fundamental. Employee and stakeholder wellness is tied to performance. Those companies who do it right, stand to gain an immense advantage from talent acquisition, retention, engagement, and results. It's great to see the Grasp team and Hintsa join forces to scale their platform and take on workplace wellbeing", Paul Polman, former Unilever CEO and investor via Manatu Partners says.
Now, by leveraging technology, Hintsa can increasingly scale its methodology and unique human-to-human coaching from the executive suite to the shop floor. Ultimately, the aim is to build scalable mechanisms for the future workplace – one that is both high performing and well-being.
Sources:
https://www.cnbc.com/2020/10/10/covid-stress-companies-turn-to-virtual-therapy-meditation-apps.html
https://www.forbes.com/sites/edwardsegal/2021/02/17/leaders-and-employees-are-burning-out-at-record-rates-new-survey/
https://www.modernhealthcare.com/safety-quality/chronic-disease-wave-looms-post-pandemic
---
For media-related queries or interviews, please contact:
Kai Kirkkopelto
Head of Marketing
kai.kirkkopelto@hintsa.com
+358 40 965 7235
About Hintsa Performance
Hintsa Performance is a global leader in human high-performance coaching. For over 20 years, the company has repeatedly proven its science-based coaching methods in the most challenging business and sports environments. Clients from Formula 1 champions to Fortune 500 CEOs and world's leading companies, trust Hintsa's performance coaches and specialists to help them succeed. The company employs more than 100 experts and has offices in London, Zurich, Dubai, Helsinki and Zug.
About Grasp
Grasp is a leading HR technology and SaaS provider focused on finding and facilitating life-changing experiences in every workplace. The company aims to help individuals in large organisations connect, learn, and grow together. With headquarters in London, Grasp provides services to many well-known and respected organisations on a global level.