Flattening the Curve – Why Social Distancing is Currently Our Best Tool to Fight the Coronavirus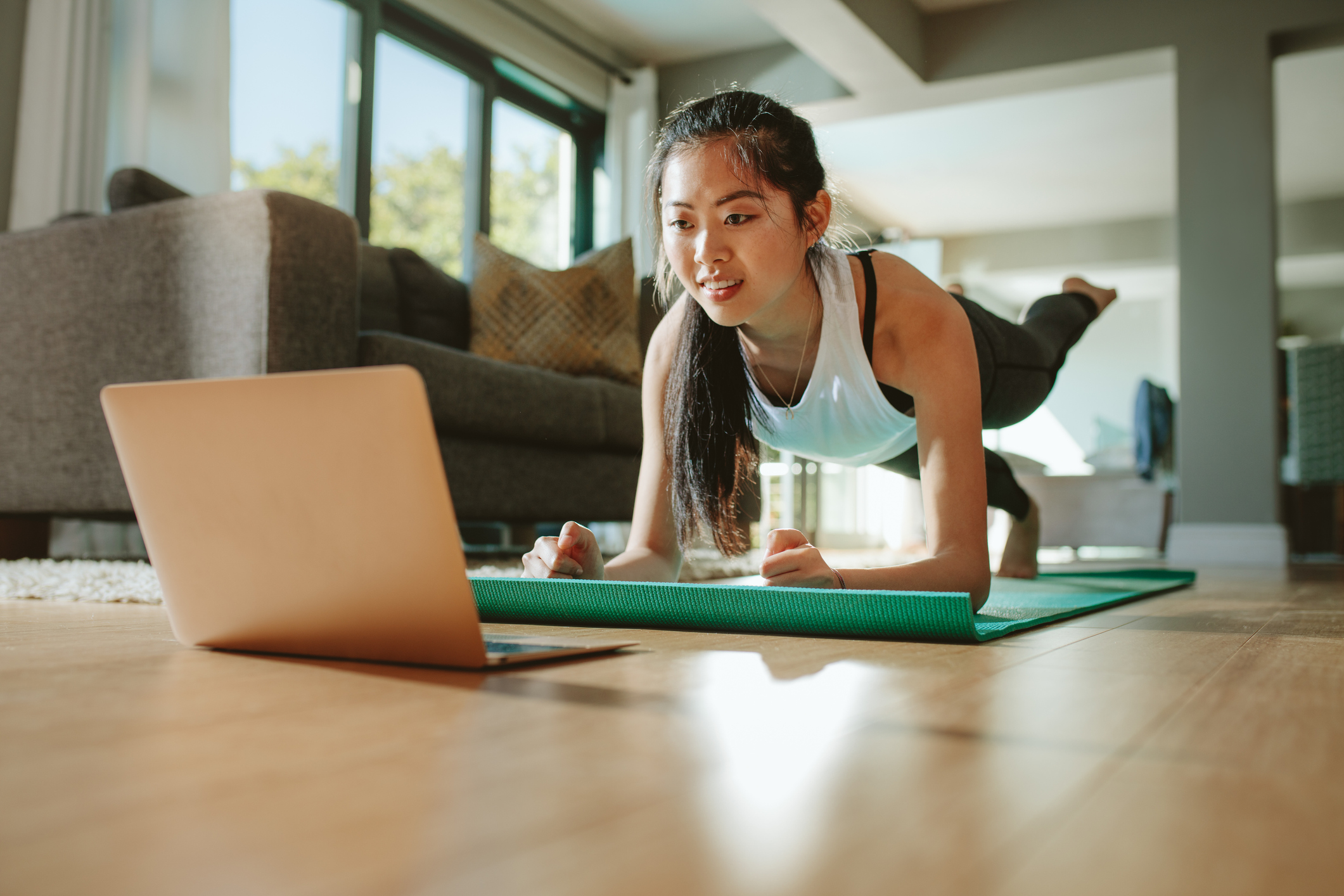 People on the street do a subtle dance to add distance when paths cross. I greet colleagues normally deserving a hug from across the room. Many relatives will be on strict phone-only communication for some time. "Social distancing" is the undisputed word of the month.
Because in this fight against the virus, we have few other options. There are existing anti-viral drugs (Favipiravir and Remdesivir) and anti-malaria drugs (Hydroxychloroquine and Chloroquine) that might be effective (Wang, M. et. al.). Another crucial measure is to test as many as possible. Yet, until drugs have been proven effective and diagnostic tests are readily available, governments have ordered us to practice the one method proven to stop the unhindered spread of the virus: self-isolation or social distancing.
What is social distancing and why does it work?
In order to slow down the spread of the virus, person-to-person transmission has to be stopped. Social distancing is a tool that public health officials recommend to slow the spread of a disease in a very straightforward way: by people staying far away from each other.
The Centers for Disease Control and Prevention in the U.S. and the Federal Office of Public Health in Switzerland describe social distancing as "keeping a distance of 2 meters from other people and staying away from mass gatherings". More concretely, this means:
All of us should stay at home, avoid crowds and refrain from touching others.
People showing symptoms of COVID-19 (see infobox at the end of this post) should self-isolate and stay at home for at least 10-14 days and should be at least 48 hours symptom-free before ending the quarantine.
Why is this so important? Since some percentage of victims need to be hospitalized, the health care system will have difficulties accommodating all patients if they arrive at the same time. If the number of cases isn't kept below what the health care system can handle at any one time, healthcare facilities will become over-powered, leading to unnecessary deaths and suffering. It is therefore important to avoid a very rapid rise and spike in cases. This effort is called "flattening the curve"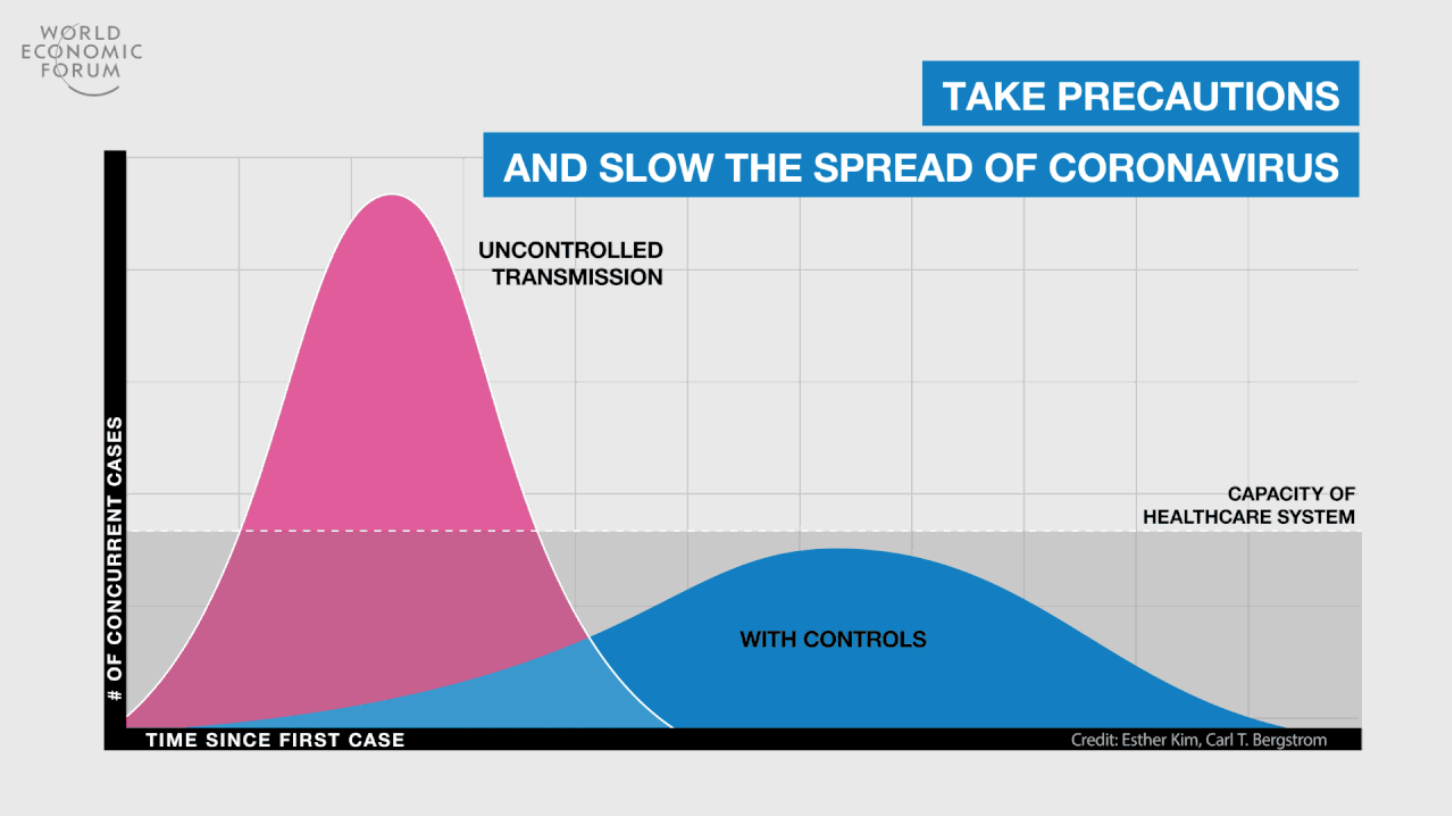 Flattening the curve means we aim to avoid a rapid rise in cases that would topple over our health care system. Instead, we aim to spread out cases over a longer period of time. That way our hospitals stay operational and we buy time to find a vaccine or more effective testing. If done correctly and on a large scale, social distancing slows the chain of transmission, saving millions.
How to practice social distancing?
Everyone must practice social distancing regardless of age or health. As we've seen in some European countries trying to slow the spread and failing, our modern economies and social structures are highly challenged by these efforts of social distancing. As individuals we therefore need to take our responsibility in order to flatten the curve and hopefully allow businesses and society to become productive again quicker. Here are 9 tips we should all take to heart:
1. Stay home and spend time with your loved ones
Take the opportunity to spend time with your family. As many countries have closed schools, this is a time to do school-work with your children, play, and maybe take up a new joint hobby. Since older adults are at higher risk of serious illness from the virus, keep in touch with your elder relatives over the phone or video calls.
2. Refrain from eating out and attending events
Eating out or visiting concerts and museums is not possible in many countries due to public health measures of social distancing. But even if you could, avoid spending time in crowds. Opt for takeout if you want to eat foods from your favorite restaurant, and exploring live streaming if you want to attend a concert.
3. Shop in stores with vegetables and fresh fruit
Opt for stores that sell fresh and local produce. Boost your immune system with antioxidants, vitamins, minerals and warm tea. Keep your body fit to fight off any pathological viruses and further pathogens
4. Opt for home office if possible
Many companies offer home office as part of their social responsibility. Furthermore, some countries have laws and regulations in place to encourage or enforce home office. Stay at home if only possible and use modern technologies to keep contact with your colleagues.
5. Avoid public transportation
Since the virus can survive on surfaces such as stainless steel for days, and as spending time in a crowded and ventilated subway, streetcar or bus can significantly heighten the risk of infection, you should avoid public transportation if possible.
6. Postpone your travel plans
Clearly this is not the time to travel. In fact, due to national lockdowns or curfews in some countries, and since many airlines only have a reduced number of planes in the air, you cannot travel as you might be used to. What remote part of the earth could you explore and learn about remotely through e.g. a documentary?
7. See your doctor or dentist only in case of emergency
In many countries, hospitals and healthcare providers have been reserved for emergency cases only. If you still have a doctor's appointment pencilled in, try postponing any elective procedures and only consult your doctor in case of emergency.
8. Wear a facial mask if you are ill
If you are experiencing symptoms of COVID-19, you should wear a surgical mask to protect people around you. The WHO also recommends people caring for somebody with symptoms to wear a mask. Furthermore, it is advisable for people in quarantine to wear a mask if they need to leave home for any reason.
9. Exercise daily and spend time in fresh air
You should continue exercising for at least 150-300 minutes per week. Aim to spend time outdoors daily. However, keep a distance of at least 2 meters to others at all times. Avoid gyms – resistance training, yoga and pilates can be practiced at home. There are great apps and remote classes for home training.
Flattening the curve – together
Scientist are working day and night to screen for drugs effective in combatting the corona virus. Similarly the pharma and biotech industries are trying to increase the production of diagnostic tests. To gain time for drug discovery and test production the slowing of the infection-rate is crucial. The only viable method to slow down the transmission and to decrease the need for hospital beds is to practice social distancing and flatten the curve.
In the end, we can take comfort in this: even if we are now physically taking more distance from our fellow citizens, in many ways we have never been closer as global citizens. We're all battling the same enemy, and it's not each other. Emotionally, we have never been closer.
About the author: Dr. Anna Erat (MD/PhD) is a medical director in preventive medicine at Hirslanden Check-Up Center and a Hintsa affiliated doctor. She studied and trained at the University of Zurich and Harvard Medical School and holds a degree in epidemiology and health systems management.

COVID-19 in a nutshell:
The Coronavirus SARS-CoV-2 also called Severe Acute Respiratory Syndrome Coronavirus 2, or 2019-nCoV-2, is the cause of the current COVID-19 pandemic. With more than 314,929 confirmed COVID-19 cases and 13,571 deaths due to the virus (as of March 22nd 2020), the illness has been designated a public health emergency of international concern by the World Health Organization (WHO). The new coronavirus represents a particular danger for people over 65 years of age and those with a pre-existing condition such as diabetes, lung disease and cancer among others. The initial symptoms of the virus are similar to a common cold or the flu including:
– Cough (usually dry)
– Sore throat
– Shortness of breath
– High temperature and fever
– Muscle ache
– Headache
– Gastrointestinal symptoms.
Yet, not everyone infected with the virus displays symptoms and feels ill. In addition, people can spread the virus for at least five days before showing symptoms. Particularly children and young adults can unknowingly carry the virus and unwillingly infect others. Since the virus is transmitted through direct physical contact and by touching a contaminated surfaces – apart from for instance coughing or sneezing –  many countries have closed their schools and ordered a curfew or social distancing in order to minimize human contact and consequently to curb the spread of SARS-CoV-2.
We bring the content to where you are
Over the coming weeks we share articles, free resources and concrete recommendations on taking care of yourself, your family and co-workers. Subscribe to our mailing list and you will be the first to hear about our free webinars, latest updates, blog posts, and much more. We also offer a vast variety of webinars for organisations that address the challenges of office workers contained to their home.