Six Ways You Can Make Wellbeing Matter in 2023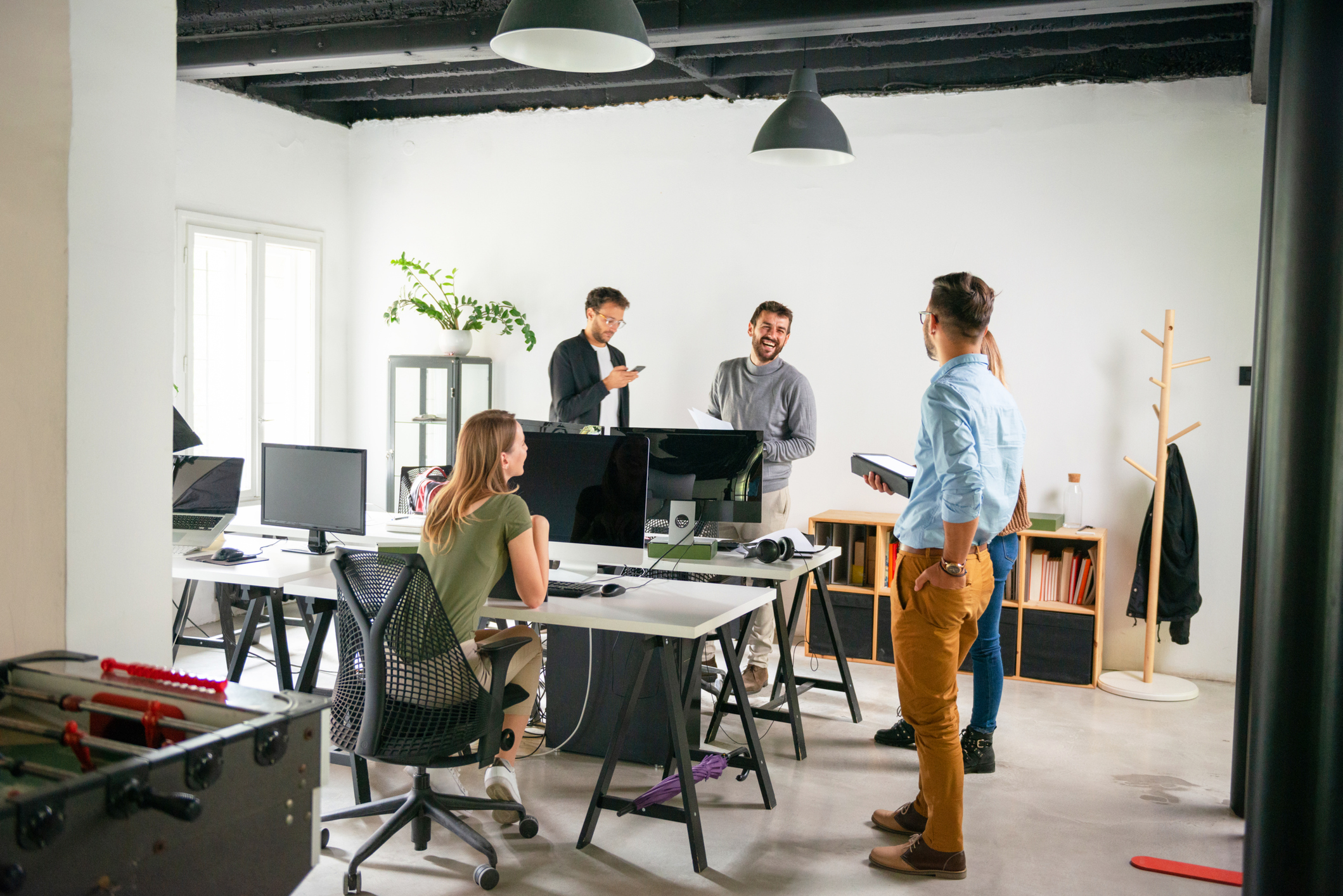 If there's one thing that unites many of the senior leaders I work with, it's the growing recognition of wellbeing as critical for business performance. Creating a culture where people are encouraged to prioritise their wellbeing doesn't happen overnight, but there are some simple steps that senior leaders can take that make leading by example that little bit easier.
According to Mercer, business executives expect employee wellbeing to deliver the second highest ROI of any other employee scheme in 2023, impacting areas from talent acquisition and retention to improving diversity in senior roles.
1. Start with why
In the words of Simon Sinek, "start with why": Why does wellbeing matter to your organisation? We all agree it's important, but how does it concretely drive value in your business? From senior leaders experiencing burnout to the health-and-safety standards of factory teams, the first step is to identify where wellbeing has the biggest impact on your daily operations.
If you're unsure where to start, I recommend you sit down with your leadership team to build your wellbeing narrative. Below are a few examples of how wellbeing drives business performance – which ones are the most relevant for you?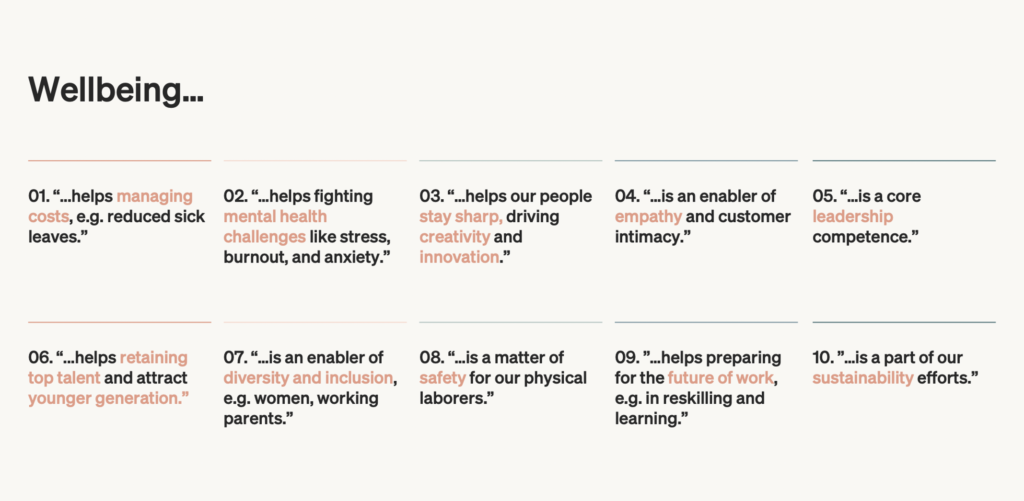 2. Measure what matters
Many leaders I speak to struggle to conceptualise how wellbeing initiatives should be measured. In fact, there are multiple ways to go about it, as our COO Nora Rosendahl highlights in our white paper on Quantifying Wellbeing.
My recommendation is to create a simple Wellbeing Scorecard. In addition to leading indicators, such as participation, make sure to include metrics around key impacts. Start with the data you already have, such as absenteeism and employee engagement. And with your wellbeing narrative clear in your senior team's mind, it's easier to pick additional key metrics to follow. For instance, if wellbeing is critical for safety, you might want to include the number of safety incidents reported. If your main concern is retention, consider including voluntary turnover or turnover intent.
I also encourage you to turn the question around: Instead of looking at how employee wellbeing drives business performance, ask your employees how the business supports their personal wellbeing: "Does my manager care about my wellbeing?" can be a powerful question to ask.
Quantifying Wellbeing
In our new white paper we introduce five perspectives for assessing employee wellbeing initiatives and a practical management tool for leaders.
Download the report
3. Translate it into behaviours
Once you've defined why wellbeing matters and how to measure it, embed it in your culture and ways of working. Think of concrete behaviours you want your employees to embody and simple ways you can create an environment to support them.
Questions you may want to ask yourself include: How is wellbeing reflected in your team norms? How can physical spaces change? Are there behavioural nudges you can introduce? How can your leaders create a working environment that promotes wellbeing and psychological safety?
Role modelling from the top is, to me, the single best way to increase organisational wellbeing. So, the most important question to ask yourself is perhaps this: What is the one thing you will do differently today to improve your own wellbeing?
4. Make it part of key processes
To make wellbeing systemic, you must ensure it becomes embedded in your key processes. Depending on your wellbeing narrative, consider the role wellbeing plays in relevant key processes.
For example, if you are focused on wellbeing in talent attraction, you may want to consider how prominent it is in your recruitment processes and employee value proposition (EVP). It's often the small, human touches that can make a difference, from how you welcome a new colleague to the way you communicate to the candidates who were not selected.
The one process I always recommend including is manager evaluations. Incorporating wellbeing KPIs in your manager evaluations allows you to quickly create feedback loops that reward employees at all levels for taking wellbeing initiatives seriously.
5. Think of wellbeing as a skill
Wellbeing isn't innate – it's something we can learn. But it can look very different depending on your seniority.
Many new recruits have only ever worked remotely, making themes such as sustainable work practices, setting personal boundaries, and managing stress even more relevant skills. Middle managers, meanwhile, must support their team's wellbeing while also looking after their own. Finally, senior leaders need to start thinking about wellbeing from a more systemic point of view, as a part of strategy.
Keep it simple and make wellbeing a standard part of key trainings. You'll be rewarded with employees who are energised, focused, and ready learn.
6. Universal access, targeted support
With a looming recession, deprioritising company-wide initiatives for wellbeing is tempting. Instead, I recommend my clients focus their efforts and initiatives on groups and teams where it can drive the most impact.
Wellbeing self-assessments can be a simple way to increase an individual's awareness of their personal wellbeing. From an organisational point of view, you'll identify pockets of risk or opportunity. For example, as many as 40% of employees struggle with mental health issues. But with women and minority background employees particularly affected, wellbeing schemes can help businesses improve the diversity of their senior employees by providing a vital source of support.
A simple and powerful tool is targeted communication to groups at risk. Some of our clients have gone as far as calling everyone in a business unit under high pressure, offering an initial coaching consultation. The conversion rate was up to 87% , and all expressed appreciation for "an employer who clearly cares about their wellbeing". Sometimes knowing that support is available is enough.
---
Creating a culture where all individuals feel supported to prioritise their wellbeing doesn't happen overnight. But making wellbeing a part of your business strategy has never been more important. To find how we can help you achieve this, get in touch with our Hintsa experts.