Sustainable Leaders: What Makes These Pioneers Different? We Spoke With Sarah Galloway from Russell Reynolds Associates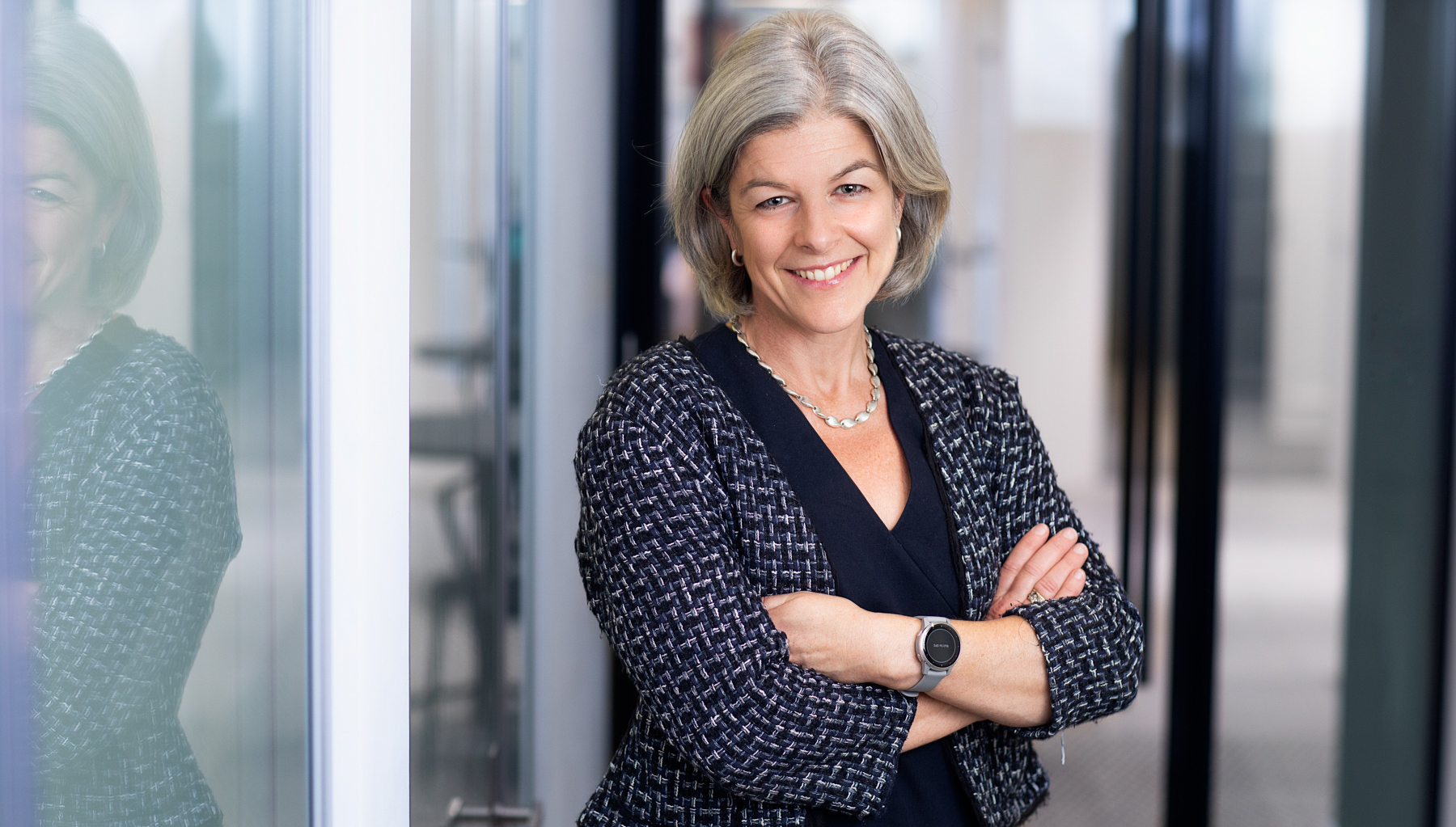 Sustainable leadership is a new concept but one that has incredible power to shape companies for good. Whether it's taking meaningful action on employee wellbeing or the challenges of sustainability, these executives are not afraid to take bold action. But what defines a sustainable leader and what should we be learning from these cross-industry pioneers? Our CEO, Annastiina Hintsa, chatted to Sarah Galloway on the topic.
I was delighted to sit down with Sarah Galloway, co-leader of the global Sustainability Sector at Russell Reynolds Associates. We discussed our mutual passions: sustainable leadership, its parallels with top-down wellbeing initiatives, and its impact on the wellbeing of our people and our planet.
Let's start out with the most important question. How do you define sustainable leadership?
We actually worked with the UN Global Compact to define this because, at first glance, it can be hard. We wanted to understand what was making the most significant difference in companies that were rising to the 'sustainability challenge', so we interviewed 50 leaders who we felt were industry pioneers.
Each of them was a great leader in the traditional sense, but there were other elements that made them sustainable leaders, too. They made decisions based on their understanding that businesses don't operate in a vacuum; there's a societal and environmental context to every element of the business. And so they choose to make complex, multi-level decisions that will have a positive impact far beyond the organisation – turning sustainability into a competitive advantage.
Alongside this, they take an active approach to stakeholder inclusion and seek out diverse viewpoints (even those of competitors!) to understand the bigger picture. The leaders use this knowledge to move their whole industry or ecosystem forward, rather than just advancing their small part of it.
Finally, sustainable leaders are disruptive innovators. They're courageous enough to challenge traditional business models and drive novel solutions that can change the world. These leaders set audacious long-term goals, supported by action and investment, and stay the course even when discouraged by short term focused stakeholders.
What did you identify as key drivers for these sustainable leaders?
We discovered something interesting here. Less than half of the pioneers were what we'd call 'born believers', who'd had that inherent passion for societal or environmental issues their whole lives. Around 10% had been 'awoken'. They'd had a Damascene moment, like seeing plastic-polluted beaches while holidaying in the Maldives or truly noticing the waste in their factory, and realised they had to take action.
Around 45% had become more convinced over time that sustainability was the answer. Maybe they'd reflected on their career or the legacy they wanted to leave and realised they hadn't done enough to give back through the businesses they run.
To us, it's incredibly exciting that so many sustainable leaders came to this way of thinking later in life. We can help the next generation of leaders have the same realisations much earlier in their careers by supporting the acceleration of their development around sustainable leadership.
It's encouraging that so many sustainable leaders started with different mindsets, and it's something we often see in wellbeing too. Why should more leaders take a sustainable approach – and how can they begin adopting it?
I think we're in the midst of the biggest cultural shift we'll ever experience as a society. For leaders, taking strong action presents a commercial opportunity. The next generation of employees are looking for companies with strong employee value propositions, and organisations that are vocal about their commitment to purpose-led action will snap up the best talent.
Fundamentally, a sustainable approach makes good business sense. One of the leaders remarked that they didn't have separate sustainability and corporate strategies – they had a corporate strategy that took a sustainable approach. Investing in your people and the planet will drive performance in net terms.
Sustainable leadership is a skill, essentially. You can pick out the elements of what makes a sustainable leader and encourage people to develop them alongside traditional leadership skills. But it also takes courage and resilience in the face of short-term pressures that can blow well-intentioned leaders off a sustainable course.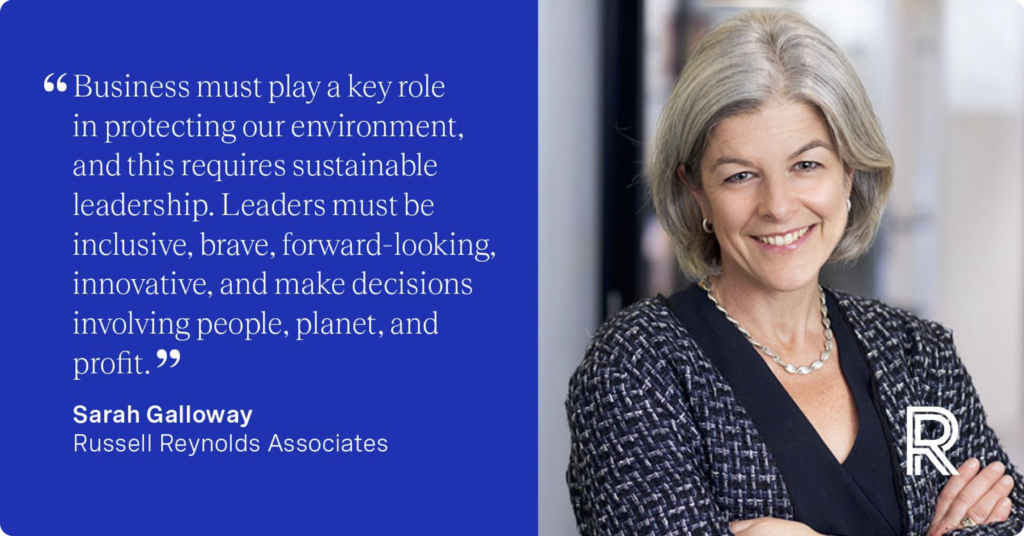 There is an average 22% gap between employer and employee perceptions of the company's wellbeing efforts. How can those at the top make sure their work is genuine and impactful?
Customers and employees can sense if you're not being genuine. They'll spot inauthenticity and greenwashing a mile off if your business is doing something you don't wholeheartedly believe in. As a leader, modelling behaviours is the most compelling action you can take. It shows you're genuinely committed to sustainable action and that it's ok to take advantage of the professional support the company offers.
The pioneers in both areas have inspired lots of 'followers' to make high level, lofty promises. Now they've got to take action and they're realising how extensively they need to change, at every level, to deliver. Everyone in the business needs to be on board and CEOs need to be leading the charge to achieve these bold targets.
If we look at companies as a whole, what does sustainability look like in 2023 and beyond?
Sustainability is about more than headline subjects like carbon neutrality. It's about water usage, biodiversity, ethical supply chains and even protecting the wellbeing of your employees.
Companies must take broad, cohesive, sustainability-focused action that is central to the business's operations, rather than wasting energy on feel-good side projects like planting trees. An excellent way to do that is to break down your aims, like making a positive contribution to reducing water shortages or eradicating modern slavery, and ensure every employee understands their role in your goal.
One company, for example, has changed the criteria for having their design work accepted and now includes sustainability factors. As a design engineer, they have had to fundamentally alter how they approach work so that it's aligned with the company's sustainability drive. By embedding your goals in every area of the business, whether that's to improve your employees' wellbeing or reduce your carbon emissions, people can see that their small actions are really making a noticeable difference.
And finally, as a successful woman doing such important work, what does wellbeing look like for you?
I've struggled to make time to look after myself properly in between working too hard and being a mum. I felt like I'd disappeared. But making time for me and prioritising exercise and fresh air – even if it felt like hard work and involved early mornings – has made a huge difference in my life. Now I can bring my whole, best self to my team and my family.
I've also found it hard not to judge myself by other people's definitions of success. Defining my own ambition and personal criteria for success took a lot of weight off my shoulders. Perhaps counterintuitively, taking the pressure off has made me even more successful.
---
Thank you Sarah for having a chat with us! Read more about what it means to be a sustainable leader—and how to become one – on Russell Reynolds Associates' website.