How to Achieve Wellbeing at Scale – Three Key Factors for HR Leaders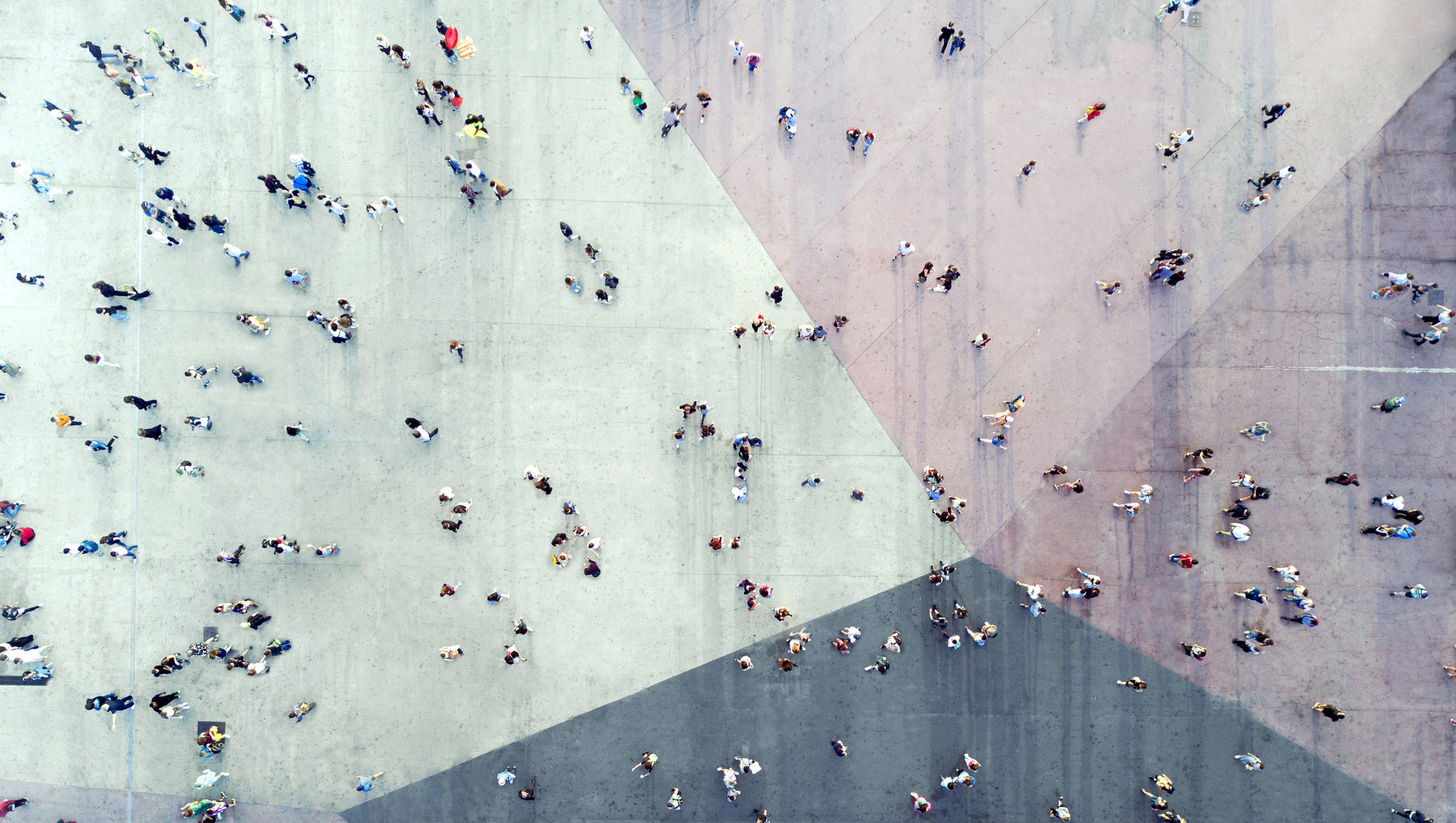 Currently, the importance of employee wellbeing and performance is on everyone's lips. But is it possible for organisations to roll out wellbeing initiatives at scale and at the same time create high individual impact? In this article, I'll dive into three key success factors how organisations can achieve wellbeing at scale.
For us as business executives and HR leaders, it is clear that wellbeing at scale does not mean using a one-size-fits-all programme to supposedly enable all employees to work harder and perform better. In fact, it's hard to implement effective wellbeing programmes at scale. There are shortages of skilled workers, post-pandemic mental health issues, increasing time pressure and information overload. And paired with changing views on life and work, especially among younger generations, we need to find a more sustainable, target group-orientated and caring approach to keeping employees well and productive.
On top of that comes the challenge of a health and wellbeing "infodemic" – an overabundance of latest research and trends, new wellbeing services and digital tools – which is sometimes conflicting or misleading.
So how can businesses make the right choice for wellbeing at scale?
Finding the right solution for wellbeing at scale
For organisations, it's challenging to make the right selection. Which wellbeing services, apps and training sessions really have an impact, and for which target groups? Which measures are scalable and easy to implement in large organisations – and which providers are best at offering them? How can services be combined in a meaningful, cost-conscious and low maintenance way?
In my conversations with executives and HR leaders, I've noticed different schools of thought that lead to disappointment with the impact of wellbeing measures at scale:
Those who are, in general, rather sceptical about the scalability and impact of wellbeing programmes, with pressing budget concerns.
Those who engage in wellbeing but can veer into 'wellbeing-washing' – similar to green-washing. Single activities like promoting fitness vouchers, banning sweets from offices and offering meditation or fitness apps have little to do with serious wellbeing at scale.
Those who, with good intentions, take on too much and struggle due to complexity and underestimate the planning and communicative effort of bringing their goals to life.
Wellbeing at scale programmes are ultimately a trade-off between impact and scalability. The more tailored, personalised and long-term the support is for each employee, the more achievable sustainable healthy lifestyle changes become. Seems logical – right? But these personalised schemes can be quite costly to roll out and maintain. So how can this paradox be solved?
I've noticed successful organisation-wide wellbeing programmes typically follow some clear principles. Let me dive a bit more into three key success factors.
1. Taking a long-term and purpose-driven approach
Truly effective wellbeing at scale programmes should be planned strategically and with a long-term perspective. Ask yourself:
What do you really want to achieve? Are you aiming for a cultural change, wellbeing as a skill or rather supporting people at risk?
Where does the greatest need exist – in terms of employee groups but also the healthy behaviour expected from employees and leaders? Which internal data and indicators (such as employee survey results) can be of help?
How much are we willing to spend on employee wellbeing? How many internal resources are available?
Your considerations may lead to different implementation approaches, such as a:
Top-down cascading approach: Aiming for a cultural change – convincing and supporting your executives first, before cascading support further down towards leaders, people managers and ultimately the whole organisation.
Value creation-pocket approach: Prioritising support for those in survival mode – e.g. managers who have pressure from above and below, or employees on particularly overloaded teams – before rolling it out to thriving and balanced employees.
Big-bang approach: A rather resource-heavy, coordinated launch across the business, driven by strong internal communications to create awareness and get employees engaged.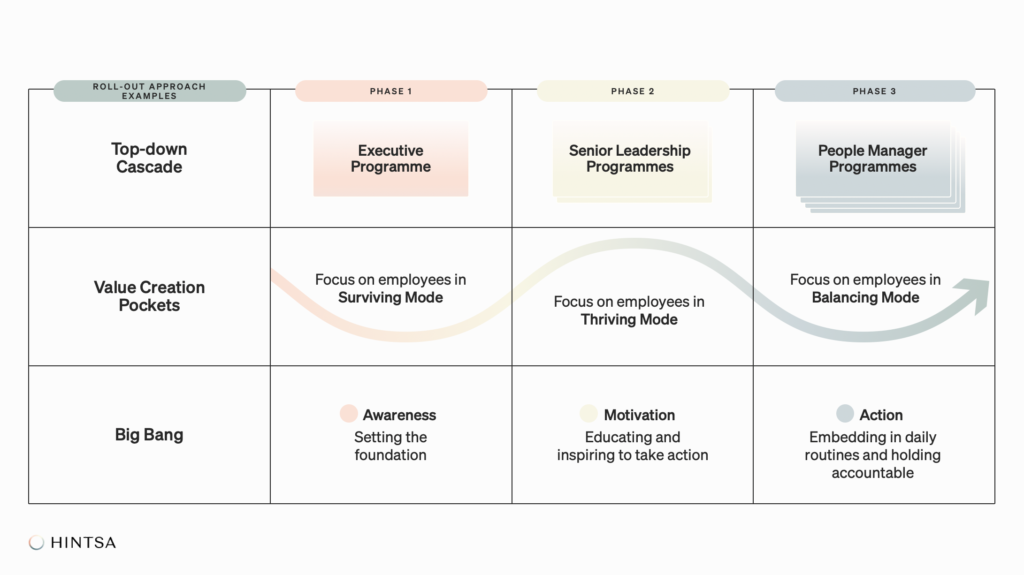 2. The power of modularisation
A successful wellbeing at scale programme is like a Lego model. It's made up of bricks – proven scalable support modules powerfully combined to create sustainable behaviour change and high value among different target groups. You could implement modules for new joiners, parents, people under strain or managers but also allow adaptation for cultural and regional diversity.
Those modules should contain any powerful learning nuggets delivered in human and digital ways, such as workshop series, modular coaching journeys and digital tools. Make sure they cover a broad range of proven content and relevant themes such as smart ways of working, effective mental recovery, burnout proofing your team, power of a challenge mindset or sustainable change and habits. It's the combination of personalisation and standardisation that creates genuine impact.
Unsure how to take a modular approach to wellbeing at scale? Here are just some of the ways I've seen our clients approach modularisation:
Focusing on at-risk teams with targeted communications and accessible, personalised coaching (on-demand, with flexible options to book sessions). One-to-one coaching accompanied by a series of workshops for team leaders including case studies on how to support their teams.
Supporting leaders across the company over the course of a few months with a tailored team programme containing of health assessments, coaching and joint offsites.
Welcoming new joiners with dedicated wellbeing aspects in onboarding training, including a wellbeing self-assessment and one-off consultation with a coach.
Helping young talents in high-intensity projects with awareness workshops about sustainable high-performance, followed by digital wellbeing journeys, including app-based coaching and reflection workshops at the end.
Targeting employees identified on self-assessments as seeking lifestyle changes with invitations to webinar series on sustainable behavioural change, including pre/post work and focused personal coaching sessions.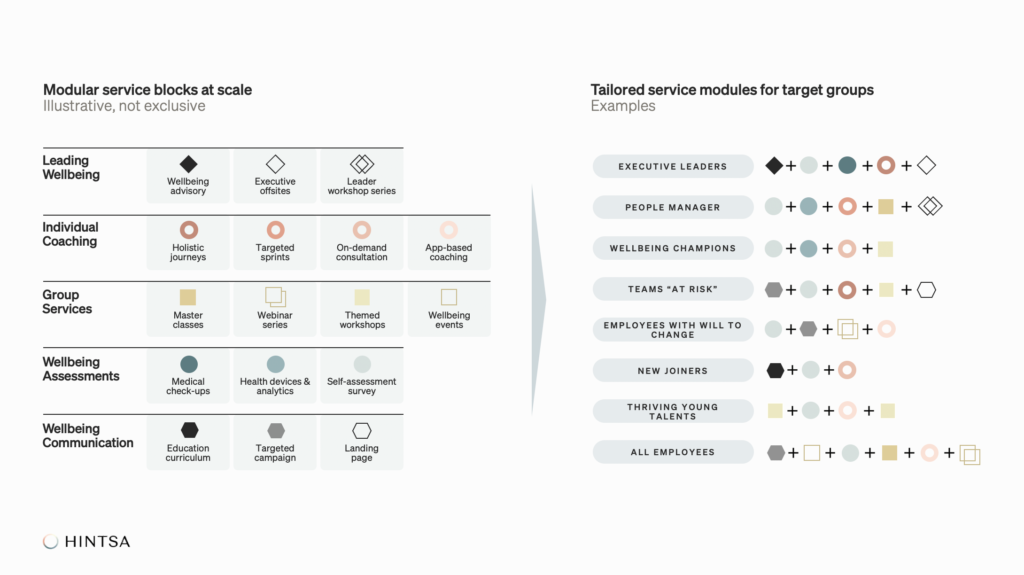 3. Easy to access – easy to manage – easy to measure
Successful wellbeing at scale programmes must be quick and easy for employees to access and engage with your wellbeing services. Busy employees won't appreciate having to jump through hoops to get support. So make sure partner apps are easy to download, webpages are clearly signposted and coaching sessions are easy to book.
The right system will also make managing wellbeing programmes easy. You should have clear sight of engagement and impact, helping you understand if your measures are meeting KPIs. Find out more about the impact of the right solutions by checking out our white paper Quantifying Wellbeing and blog article on How to Measure Employee Health and Wellbeing Initiatives.
Below is an example from our client work using Hintsa's scalable processes and tools ranging from self-assessment, target group identification to coach booking.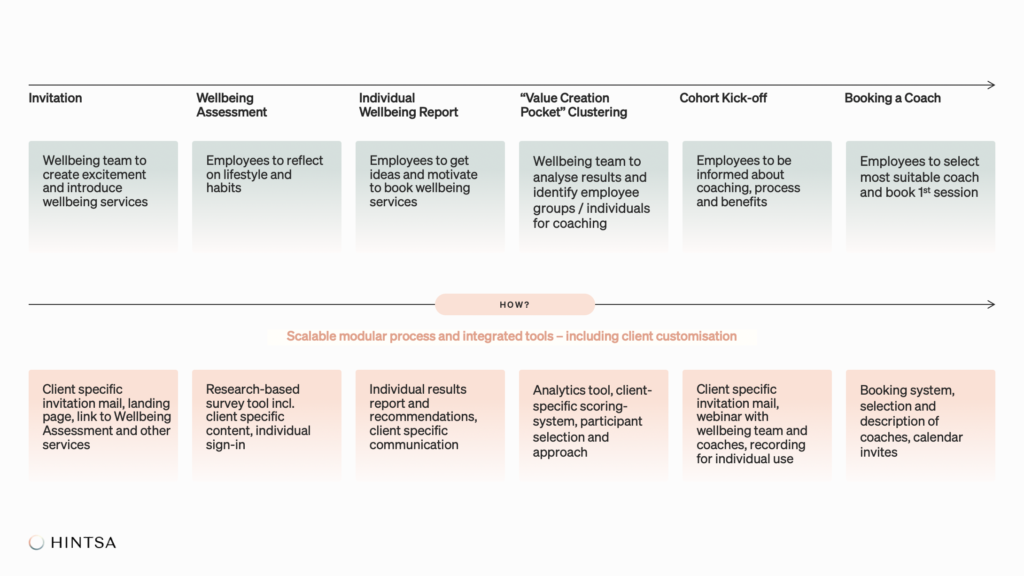 Mastering wellbeing at scale
Wellbeing at scale programmes can have a powerful impact. It's important that HR leaders plan for the long-term, dedicate sufficient time to planning and create impactful wellbeing modules for different target groups. The right external partners are also crucial. An experienced global wellbeing provider that offers a broad range of service modules with integrated scalable systems in place can elevate your programme.
At Hintsa, we have a global network of 150+ coaches and specialists, and offer strategic wellbeing advice that can help you develop an organisation-wide approach to wellbeing. Our digital tools and programme management resources make executing wellbeing at scale straightforward.
Explore our client success stories and get in touch to find out how we can help your organisation.